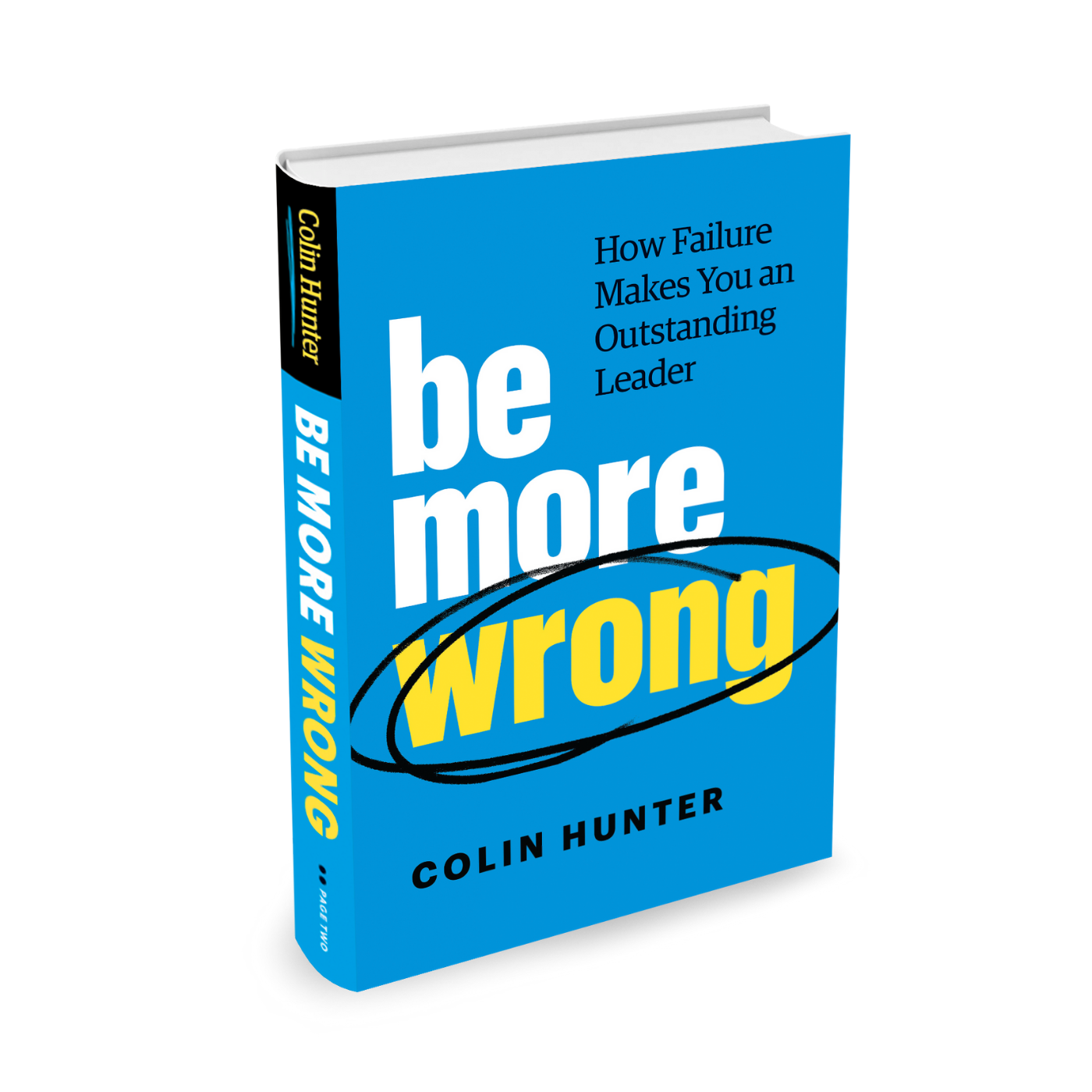 Meet the Author.
Colin Hunter is an Author, Mentor, Coach, and the Founder and CEO of PotentialSquared, an international business that specializes in creating playgrounds to disrupt the way people are led.
Relearning failure as a valuable outcome makes for an outstanding and successful leader. Building from your insecurities is essential to leadership. But, that's easier said than done.
What if you could build a workplace culture that was less like a classroom, and more like a playground: a place filled with opportunities to take risks and test boundaries, with soft ground on which to fall? A place where you and your team are free to make mistakes and get things wrong―a place where it's okay to fail?
Pre-order 'Be More Wrong' and sign up for a FREE 10-week crash course of weekly insights into how you can 'Be more wrong'.
Sign up for a FREE ultra-fast 10-week crash course...on us!
About Be More Wrong: How Failure Makes You an Outstanding Leader
In the age of disruption, it's never been more important to fail early, fail often, and fail forward. Be More Wrong uncovers the systems, habits, and practices you need to develop critical leadership skills and learn fast.
If you are recovering from Imposter Syndrome and feel limited by your capabilities of being a solid leader, Be More Wrong will change your mindset and encourage you to believe you can be successful in growing from failures. Be More Wrong brings together for the first time the concepts of The Hero's Journey, Design Thinking Methodology, storytelling, personal resilience, psychological safety, strategic presence, and the blended skills of coaching and mentoring into a leadership framework.
Using the Pi2 Leadership Impact Model created by author Colin Hunter, Be More Wrong shows you how to create systems and build habits through purposeful practice, that will help you lead with greater confidence, conviction, and connection. You'll learn how to recognize different leadership styles, and what transforms a good leader into an outstanding one.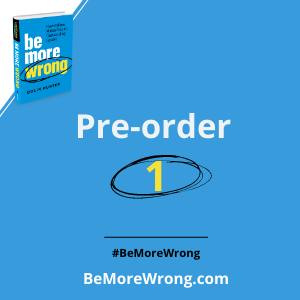 Pre-order offer 1
Pre-order 1 copy, email your receipt and get a FREE leadership guide.
$27.00 | £18.05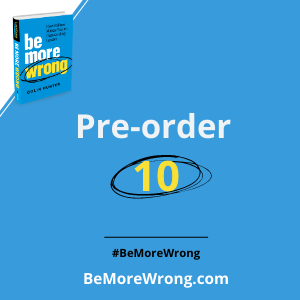 Pre-order offer 10
Pre-order 10 copies, email your receipt, and get FREE access to a group coaching webinar with Colin Hunter.
$270.00 | £180.05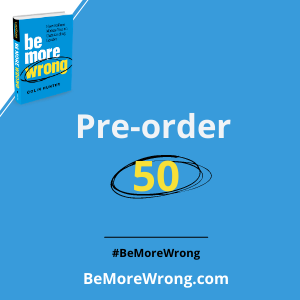 Pre-order offer 50-99
Pre-order 50-99 copies of the book, get 30% off the retail price, and be entered into a draw to win an Oculus Quest 2 Headset.
30% OFF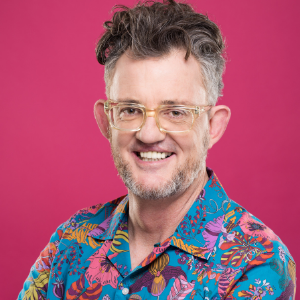 "If you're considering Be More Wrong, it's because you're a leader seeking to be better."
Michael Bungay Stanier, best-selling author of The Coaching Habit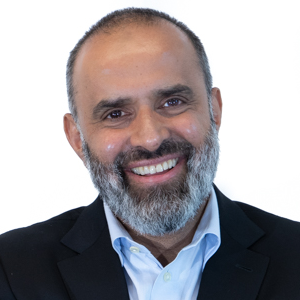 "
Colin offers a powerful approach to building this new leadership DNA. A top read for someone starting the leadership journey right or for a seasoned leader ready for reinvention.

"

Ismail Amla - Author of "From Incremental to Exponential" and Chief Growth Officer, Capita
Note from Colin
I never thought fifteen years ago I would be meditating my way to success - or celebrating failure. But both have helped me immensely.
Yet, how often as leaders do we feel we can create experiments and play with our role and try something new? We usually take the path of least resistance and do what we have always done. We have lost the exuberant freedom of playing in the playground because we are worried or in many cases terrified by failure.
Life as a leader is a lifelong journey of purposeful practice and continuous learning. Being more wrong is about getting up every morning excited about the day's experiment, failure, and how that moves you towards success.
I hope you enjoy this book and my leadership journey. If you take away one thing from my experience, your screw-ups are a rich source of success for you, your teams, and your clients.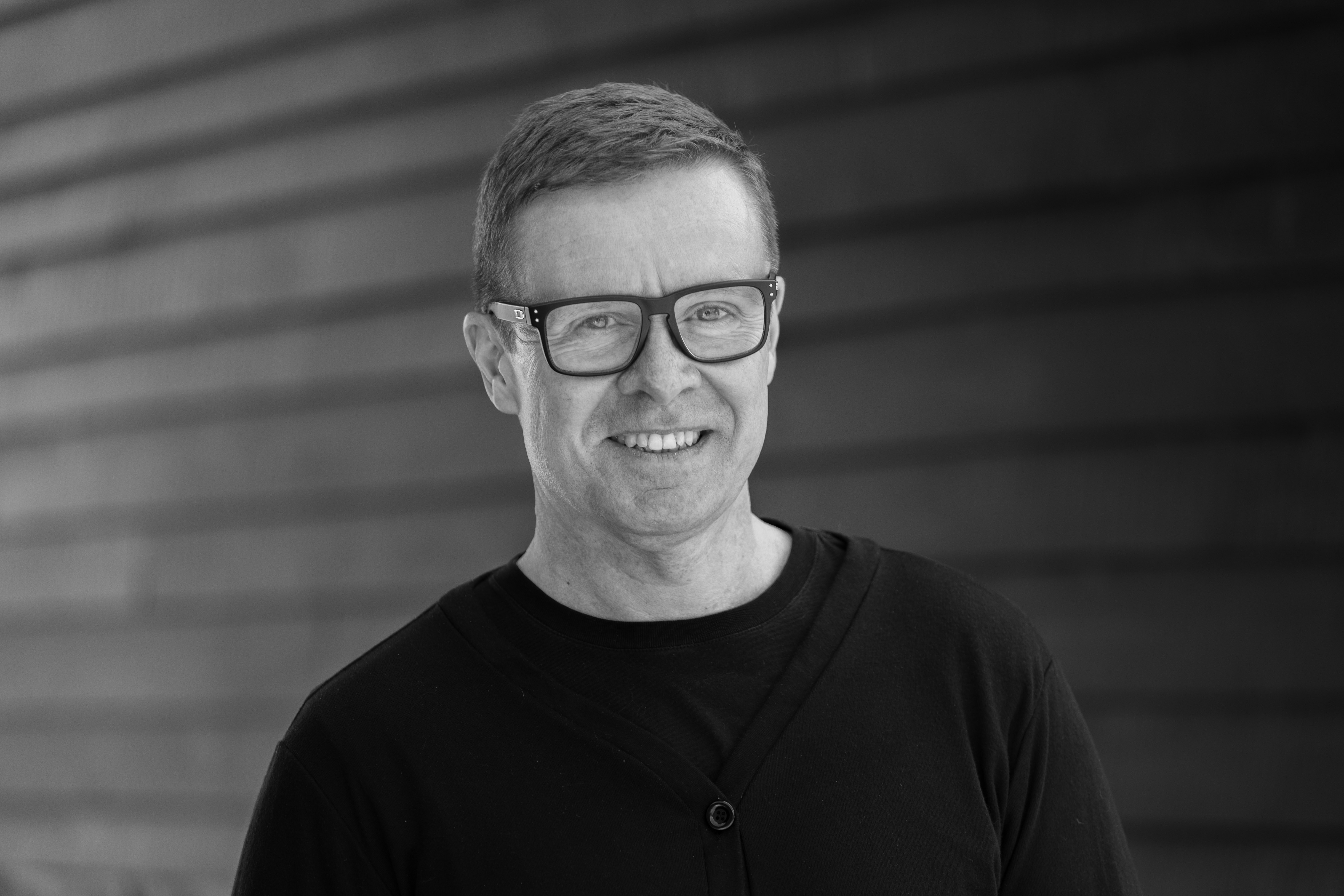 Here's a list of worldwide retailers.
If Amazon is not your thing, you can also support a number of worldwide retailers and independent distributors. Here's where you can buy 'Be More Wrong'.
Follow Colin and PotentialSquared: